May 22 • Matt's Mission 5K
North Branford High School
May 22, 2016  9:30 a.m.

The certified 5K includes a scenic, rolling course through residential neighborhoods in North Branford.
Post Race Party All participants are invited to enjoy a post race party with food, beverages, family activities and entertainment.
Early Packet Pick-Up Friday, May 20th and Saturday, May 21st at soundRUNNER, 1088 Main Street, Branford, from 10 a.m. – 6 p.m. Save time on race morning and pick up your race number and T-Shirt early!
Schedule
8:00 am: Race day registration
9:30 am: 5K starts
10:30 am: Awards and post-race party!
T-shirts Given to all registered entrants.
Parking Plenty of parking available at North Branford High School.
Awards Top three Men & Women race finishers in each division, 12 & under, 13-19, 20-29, 30-39, 40-49, 50-59, 60-69, 70-79, 80+ and Wheelchair.
Fundraise for Matt's Mission Raise $100 for more for Matt's Mission Fund and receive a complimentary race entry.    Email jody@jbsports.com when you have reached $100 or more.

__________________________________________________________________________________

The race honors Matt Picciuto who died in a car accident on May 23, 2009. Matt wanted to make a difference in his life and by supporting this event, you can help make a difference in the lives of many people. Last year's race raised $45,000 for children and their families and we have raised over $100,000 in the past four years! Matt's Mission Fund encourages everyone to slow down and drive safe while raising awareness to the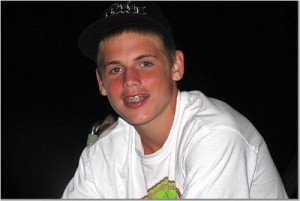 consequences of destructive driving decisions.
Matt's family feels it is important to give back to their community through Matt's Mission Fund by donating to other local organizations and by speaking at local driving schools attempting to help other teens. Every year Matt's Mission Fund donates to the Board of Education earmarking funds for Jerome Harrisons School Night to Care and to families who qualify by sending their children to summer camp. The Matt Picciuto Scholarship is awarded to deserving students. To date eighteen students have received The Matt Picciuto Scholarship totaling $18,000.00. Class dues have been paid for many students who otherwise would not have been able to attend graduation or senior prom. Letter jackets, a computer, tumbling lessons, cheer camp, soccer camp, prom bids and year books have been purchased. Donations have been made to many families struggling with illness, death and various hard times. It is not uncommon to assist a family by paying their rent, electric or phone bills when warranted. Lunch tickets are available in the Guidance Department year round for students who are hungry and have no money to eat.
Matt's Mission Fund has supported other organizations such as MADD and Open Your Heart Foundation. The Matt's Mission Fund board members have voted several times to donated funds to both the North Branford Police Department and North Branford Fire Department.

_______________________________________________________________________________________________
North Branford High School: 49 Caputo Rd. North Branford, CT  06471
Questions? Contact jody@jbsports.com or 203-481-5933